100 Years of Alaska's Legislature
"From Territorial Days to Today"
---
---
Beth Kerttula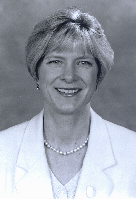 Beth's family has a long
history in Alaska starting in 1918, when her grandfather
Oscar spent the winter in Nome. In 1935 he returned with his
young family to the Matanuska Valley to farm. Beth's
father Jay has the honor of being the state's longest-
serving legislator and the only legislator to have served
as both House Speaker and Senate President. Her mother
Joyce was an English teacher and full-time volunteer as
Jay's office manager.
After growing up as a legislator's child in Juneau and
Palmer, Beth earned her BA from Stanford University and her
JD from the University of Santa Clara. She worked as an
attorney in both private and public practice before running
for office.
Beth has been elected seven times to the Alaska House of
Representatives from District 3 in Juneau. During her
public service she has been a strong voice for Alaskans
retaining control over their resource wealth and responsible
development and has been instrumental in oil and gas
decisions. Beth has also been a leader to restore civility,
ethics and non-partisan decision-making to the legislature.
She was the original sponsor of Alaska's world-renowned
cruise ship pollution legislation.
A trusted and respected leader, Beth served on the House
Finance Committee, was Minority Whip for 3 years, and is
currently the House Minority Leader - the highest rank for
a minority member in the House.
Beth's husband Jim Powell was Deputy Mayor of Juneau.
He works at the Department of Environmental Conservation and
is a PhD student at the University of Alaska.
Beth is a member of the Alaska Native Sisterhood, Camp
2, the Fil-Am and the Filipino Communities of Juneau, and
the Alaska Bar Association. Beth owns a very small jewelry
making business and enjoys reading, watching movies and just
being outside with Jim.
Beth resigned on January 24, 2014.