100 Years of Alaska's Legislature
"From Territorial Days to Today"
---
---
Vic Kohring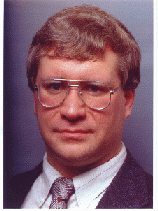 Date/Place of Birth:8/2/58; Waukegan, IL
Residency in Alaska: Chugiak; 1963-69 Anchorage; 1969-76 Wasilla; 1976-present
Education:High School - Dimond, 1973-76, diploma College/University - Alaska Pacific University, 1987, B.A. Post Graduate - Alaska Pacific University, 1989, M.B.A.
Political and Government Positions:State Representative, District 14, 1995-Present; Alaska Housing Finance Corporation Board of Directors, 1991-94; Wasilla Planning and Utilities Commission, 1991-94.
Service Organization(s) Membership:Wasilla Chamber of Commerce; Palmer Chamber of Commerce; National Rifle Association; Iditarod Trail Committee
Special Interests:Fishing, hunting, family activities