100 Years of Alaska's Legislature
"From Territorial Days to Today"
---
---
Dan Saddler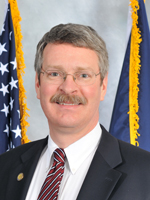 Residency in Alaska:
Juneau, 1979-80 (summers)
Anchorage, 1988-92
Eagle River, 1992-present
Family:
Wife: Chris
Children: Danny, Peggy, Don, Sam
Education:
B.A. Journalism, Miami University, 1983
M.A. Journalism, Ohio State University, 1987
Other Political and Government Positions:
Legislative Aide, Alaska House of Representatives, 3 years
Legislative Aide, Alaska State Senate, 2 years
House Majority Press Secretary, 2 years
Deputy Press Secretary, Office of the Governor, 3 years
Special Assistant, Department of Natural Resources, 1 year
Deputy Director, Governor's Office of Boards and Commissions, 3 years
Republican Party District 18 Chairman, 6 years
Business and Professional Positions:
Former board member, Alaska Press Club
Former member, Society of Professional Journalists
Service Organizations and Community Involvement:
Chugiak-Eagle River Chamber of Commerce; National Rifle Association; Aircraft Owners and Pilots' Association; Alaska Airmen's Association; Air Force Association; Association of U.S. Army; Anchorage Republican Women's Club; Governor's Annual Picnic committee; Anchorage Folk Festival board; Juneau Folk Festival
Special Interests:
Family, flying, hiking, songwriting and performing, American history.