100 Years of Alaska's Legislature
"From Territorial Days to Today"
---
---
Bruce Weyhrauch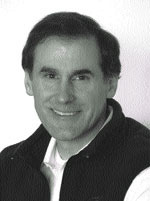 Date/Place of Birth:February 14, 1953 ; Lincoln, Nebraska (raised)
Spouse:LuAnn Bailey Weyhrauch
Children:Benjamin, Maria, Barclay
Residency in Alaska: 24 years Juneau 1982, 1986 to present Angoon 1978, 1979, 1982, 1987 Sitka 1974-1976
Education:Sheldon Jackson College; California State University Humboldt, 1979, B.S. Natural Resource Planning; Northwestern School of Law, Lewis & Clark College, 1986, J.D..
Political and Government Positions:Staff, Alaska State Senate, 1982; clerk, Department of Law, 1986-1987; law clerk, Judge Pegues, 1987-1988; Juneau Economic Development Council, 1994-1995; Juneau Port Authority Committee, 1995.
Business and Professional Positions:President, Alaska State Bar Association Board of Governors, 2000-2001; president, Juneau Bar Association, 1994, 1996; president, Alaska Commercial Fisherman's Memorial in Juneau.
Service Organization(s) Membership:Board, Boy Scouts of America, Southeast Area Council, 1998-present; cubmaster & den leader, Pack 6, 2000-2002; board, AWARE, 1988-1991; board, Big Brothers/Big Sisters of Juneau 1987-1988; Rotary, 1999-present.
Special Interests:Family activities including classic films, camping, fishing, youth activities, sports.
Other:Sole Practitioner of the Year Award, American Bar Association; Eagle Scout.